Nov 9, 2018 at 12:51 PM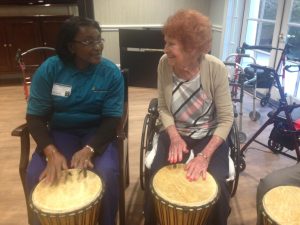 I can hear mom say, "Halloween. Oh, I just can't be bothered." So, at 5:30 a.m. on October 31st, Mary Josephine, my mom, took her last breath. I'm sure she was anticipating the party the next day in heaven… All Saints Day on November 1st.
One lesson that my mom's 94-year life modeled was this… we are wired by God to contribute not consume. "Spend yourself," I can hear her say. And spending herself she did. The last two years of dementia were debilitating for her and I must admit, my relationship with her was affected. These last two years consumed my capacity and the capacities of my sister and mom's care givers in so many ways. I often said to myself, "this is all consuming."
But now a week after her passing, it's easy to see this lesson of contributing not consuming was lived out to the very end. She totally spent herself, until the very last breath, contributing to her loved ones as an example of being present, wanting to connect…. and eager for everlasting life. At one point coming in and out of a coma state in hospice, saying, "I wish Jesus would do something!" And, "Who is that sitting in the corner?"
Days in hospice were filled with visitors. So many that sometimes family got pushed out of the room. My sister Anne and I took turns spending the night. By the way… nice hospice…bad hotel! At 7:00 a.m. one morning after I had spent the night, Monicah, mom's long-time caregiver showed up, unexpected but welcomed. As we chatted, Monicah told me again how much she loved my mom, calling each other "lovee." I thanked her again and acknowledged how difficult it must have been. Monicah, pushed back, "Oh no Mr. John, Lovee taught me so much."
OK, I'm listening. Because the last two years were an exhausting season of consumption to me. Monicah went on to tell me that mom taught her one really important thing.
First, when you find "your" church, pour yourself into it. Monicah thought to herself, I want what Josie has. So many people who love her, include her even in her disabled state and are present to her…and they are not family, not obligated. She belongs to her church community.
Now, in my words, this is what mom did and was encouraging Monicah to do.
Find a church where you can Belong…
So, you can come to Believe….
And watch your Behavior change.
Most churches, with good intentions get this wrong, requiring you to behave so you can come to believe and eventually belong… Josie says, "Don't settle for it."
And it occurs to me that this is true for other parts of our lives too-  neighborhoods, workplaces, nonprofit boards.
How about you? Does your church, neighborhood, workplace, nonprofit board want you to behave and believe before you belong?
10 responses to "The Legacy of Mom"