Mar 6, 2017 at 4:02 PM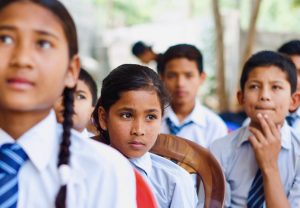 We never know where we will connect with something that speaks to our heart's desire. For my friend and colleague, Mike Luedke, it was through an unlikely friendship with a Nepali immigrant, Ojash, whom he met through work. Mike describes Ojash as a cool, calm, and collected guy who was able to help unravel a really tough tech problem while consulting for Mike and the company he was working for at the time. That demeanor drew Mike in, and they started to become friends over international cuisine – something they both shared an interest in. Mike was just out of school and already asking some tough questions: "What else is there in life?" and thinking, "I want more meaning." On their lunch breaks, Ojash would talk about his homeland of Nepal and the rampant poverty and illiteracy. Mike recognized the vision and purpose Ojash spoke with when talking about making a difference there, and he was hooked.
Today, Mike, Ojash and about 15 others run Ganga Ghar, a non-profit organization whose mission is to "improve the lives of impoverished children in Nepal by sponsoring their education and ensuring adequate nutrition and clothing for their families." They now sponsor upwards of 80 children.
In 2015, Nepal was hit by a 7.8 magnitude earthquake which interrupted and redirected Ganga Ghar's work. Getting relief and medical supplies into the hardest hit areas became the immediate focus. And just last year, Ganga Ghar re-opened a school that had been reduced to rubble in the quake.
Interestingly enough, Mike says that the earthquake has the Ganga Ghar team, and Mike himself, stepping back and reflecting on their work in Nepal, asking themselves: "Are we serving in a way that brings transformation to the lives of those we reach and those we partner with?"
As part of his personal Generosity Gameplan, Mike is wanting to re-confirm the giving of his currencies as a transformational act of generosity. Is it bringing about personal growth, relationship growth, organizational growth, community growth, and spiritual growth?
This examination is driven by one of Ganga Ghar's core values – a "deep desire to transform the world by transforming the lives of others." So now that the school is rebuilt, Mike and Ganga Ghar want to make sure they are continuing to connect with their donors', sponsors' and partners' desires to change the world for the children and families in Nepal that need it the most.
Stepping back often and evaluating questions like these is an important part of your Generosity Gameplan. Things change. The world changes. Our circumstances change. It's necessary for us to make sure that the giving of our currencies remains in line with our heart's desire.
You can find out more about Ganga Ghar at their website: gangaghar.org or Facebook page: facebook.com/gangaghar.
---
Read my book, Connected for Good: A Gameplan for a Generous Life, to discover stories of other generosity champions.
3 responses to "Millennial Connections"