Jul 12, 2016 at 2:26 PM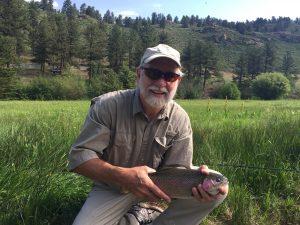 Last week I was in Colorado for some business and experienced an amazing day in which I was the beneficiary of another person spending his relational equity on me. Dr. Gary Hoag, Generosity Monk, built a bridge for me with his son Sammy, a fly fishing guide, whose website is www.sammysflyshop.com. Sammy guided me on a private ranch near Bailey, Colorado. We were joined by another connection from Gary – John Scott – with whom Gary knew I would find common ground…family, faith and fishing.
The connections were spectacular, of course, with Sammy and John, but also with fourteen of the most beautiful rainbow trout who found themselves connected to my line! The strongest is pictured here. A 21-incher from the North Fork of the South Platte River. All connections were returned safely to their homes in waiting for the real meal.
This experience got me thinking that receiving is so very important. These connections were undeserved, unearned by me. Gary and I have only met once at a conference and had one phone call, but in his DNA is this longing to connect others for their benefit. I hope when Gary puts his head on his pillow tonight and wonders, "How generous am I?" He'll count these connections for good that he made for me.
Generosity is not only measured by line 19 on his Schedule A.
How about you? Made any connections for good lately?
---
Read my book, Connected for Good: A Gameplan for a Generous Life, to discover more stories about both giving and receiving generosity.
2 responses to "Being on the Receiving End of Generosity"