Jun 23, 2014 at 9:40 AM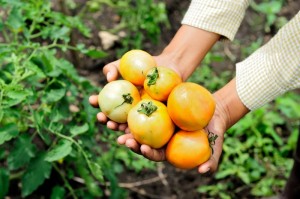 As we are coming into the season of fresh summer produce from the garden, I've been thinking about a different kind of appetite: the hunger to connect for good.
In their book Living the Call, William J. Simon Jr. and Michael Novak encourage Catholic laity to see lives of service differently. I think they have tapped into a hunger that transcends Catholic lay ministry and put it front and center into our lives of generosity.
Michael Novak describes this familiar longing: "They want to love their neighbors better, the poor much better. They see around them so much pain, enervation, weariness, dryness of heart, sheer boredom and emptiness. They confront a spiritual desert all around them under the merry-go-round of the luxurious shopping malls—and they feel that desert advancing in their own souls."
Many of us have experienced countless hours of volunteering and maybe the deep satisfaction of making sacrificial charitable gifts. We have sometimes been moved by someone's profound act of generosity or heard a rousing sermon on stewardship.
Yet there is still a scarcity of connection. We are not tuned in to our own hearts or the hearts of others when we give.
Acknowledging our hunger to do good in a heartfelt way is an important step out of the Generosity Gaps. To turn that hunger into action, we need to feel its discomfort and let it move us.
---
My book Connected for Good is full of stories of people who got in touch with their hunger and found creative ways to satisfy that longing to do good. What will your story be?