Dec 19, 2018 at 8:55 AM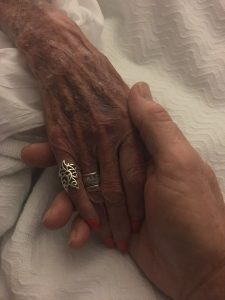 Last month while keeping vigil with my mom in a Dallas hospice I did a lot of hand holding and silent reading. From an author I do not remember, here is a thought I remember so clearly.
We often think of Hope as a virtue. It is essential to waking up and facing the day. It sinks deep into our hearts as we work on our relationships, and it helps us see past immediate challenges. But this author stated that hope as a virtue has little value without waiting.
Waiting. I did a lot of that in Dallas and found it difficult. It turns out that waiting is an art form and required in almost every relationship. You've done this I know. Sitting with a friend or loved one in a doctor's waiting room. Waiting on a "light to go on" for a child growing up. Connecting with a seat-mate while waiting for a gate to open up at an airport. Talking with a loved one while waiting for the hold music to stop and a customer service person to pick up the phone.
Waiting, waiting, waiting.
What does this have to do with generosity?   As opposed to waiting "on", waiting "with" is an act of generosity. It's spending yourself. It's a grand irony. Our presence is the most underused yet most valuable of the generosity currencies.
So, my wish for you this season is that you can close the screens and be present to those you are waiting with, and together get clear about what you are hoping for with your acts of generosity.
Merry Christmas
6 responses to "Waiting"