Dec 6, 2018 at 1:47 PM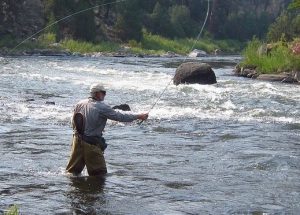 This photo was taken on the Colorado River last summer. The trout love clean, clear water even more than I do!
A couple of years ago my friend Fred Smith wrote about this time of year, noting how callused we can become if we only focus on what's going on outside. The barrage of incoming requests, Giving Tuesday, year-end appeals, photos of hungry children, Facebook likes, Hollywood elite's Twitter endorsements, clanging bells at the mall and big data reaching into our shopping sites can be exhausting. It can harden us and numb us to what is important. And what is important is what is going on inside.
Fred's comments got me thinking again this year about what I choose to focus on. And for me this Advent, it's looking inward not outward. Yesterday, I deleted all my one touch apps on my iPad for news; Drudge, National and Wisconsin Public Radio, LinkedIn and Facebook. I reasoned that I must touch those apps dozens of times a day. More and more lately when I open those apps I find little I'm for and lots of things I'm against.
So this Advent I'm focusing on what I'm for, which is my heart's desire.
I'm for churches well-led, because these churches will attract folks like my adult kids, Karen and Micah.
I'm for high adventures for young people that challenge them to rely on their God-given talents.
I'm for marriages so strong children may depend on them.
I'm for clean air and water.
I'm for citizen politicians.
And I'm for generosity showing up in the lives I touch.
How about you, this Advent, what are you for?
4 responses to "My Focus This Advent"