Sep 1, 2018 at 8:43 AM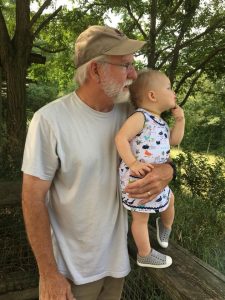 Have I mentioned Anna Grace coming into my life? Anna Grace is our first grandchild. I know I mentioned her to my "brother-cousin" Edward, who tragically died when a horse threw him in Austin last May, but I've been with Anna Grace the last five days. And you know, Edward was right. He told me that grandkids are just children we are supposed to love, until you stick a finger out…and they grab hold to take you somewhere. Now that's an amazingly ordinary moment.
Spending time with Anna the last few days got me thinking. What other moments in my ordinary life have been extraordinary? And isn't it the amazingly ordinary things that impact us the most?
You put a zucchini squash seed in the ground, and if you miss checking on it for a few weeks you have squash the size of a small island that you want to drop on your neighbor's porch in the middle of the night because you have no idea what to do with it…and after all, isn't this generous?
You fish with your friend Steve in Montana on the Big Hole River, and the spectacular day presents the simplest of things, rainbow and brown trout on the end of a fly line….forty two times….amazingly ordinary.
You invest in a connection that turns out to be one that you hoped for but had frankly stopped trying to find, a very close friend. And you discover he appears looking for the same things…time in the woods, time thinking about God, time talking about stuff that matters. Amazingly ordinary.
It seems to me that when we work too hard at trying to be generous we might be missing something important. That is, allowing for the amazingly ordinary to capture our imagination. You see, I think that this "heart's desire for changing the world" I talk about can sometimes feel lofty and dare I say "strategic." Let's not allow getting clear and confident about a Generosity Gameplan force us to miss the amazingly ordinary moments that inspire us.
I wonder if we can come to lives of generosity without acknowledging the amazingly ordinary, like Anna Grace grabbing my finger and taking me for a walk.
How about you, what's amazingly ordinary in your life?
5 responses to "Have I Mentioned Anna Grace Coming Into My Life?"