Jul 25, 2018 at 1:42 PM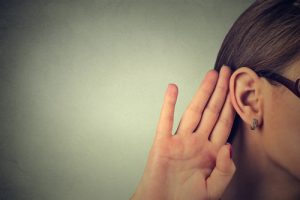 I'm having a "too soon old, too late smart" moment. For 25 years as a YMCA director I had the privilege of engaging donors in our work. Now, for the last 18 years I've been on the other side of the table as a donor listening to many pitches. I wish I would have known what makes for a mutually gratifying donor conversation. I talked too much and listened too little.
I find it interesting, after someone pointed it out to me recently, that the words "LISTEN" and "SILENT" have the same letters in them. Bear with me here.
Today, this is the way my dream solicitation would go. First the fundraiser would ask these seven questions:
-How are you?
-What are you celebrating?
-Where are you winning?
-What challenges are you facing?
-How will you tackle those?
-How can I help?
-How can I pray for you?
And then she would "LISTEN" as I answered each one. Listening is active. It means not formulating your next question before the answer to the last one is fully given. And that means remaining "SILENT" and hearing what is being said.
Then after I've had a chance to talk, connect, and the fundraiser knows me a little she would ask, "John, when you read the headlines do you ever say to yourself, 'since everything needs to be fixed where will I start?'"
Wait for my answer. And LISTEN some more.
If I would start with another organization or cause she would validate this notion and help me connect to folks doing this work. She would help me be generous to someone other than her organization.
If I would start with her organization or cause I would hope she could recognize this as my heart's desire and further ask…
What is it about the participants in our organization ?
What is it about the staff?
What is it about the culture of our organization?
What is your motivation?
Finally, eureka! Help me engage in a specific way after hearing my heart.
I wonder, am I dreaming? What does your fantasy fundraising call look like? We are given two ears and only one mouth after all.
---
Read my book, Connected for Good: A Gameplan for a Generous Life, to discover stories of people just like you who have become generosity champions
4 responses to "My Dream Visit with a Fundraiser"