Jul 3, 2018 at 10:37 AM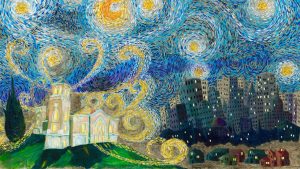 *Artist: Mariah Hope – use by permission of Leadership Network
I spend much of my strategic thinking and effort on culture, not pop culture, although this is a dimension of it, but rather matters of civil society in general. And some time ago I remember thinking, "Everything looks like it needs fixing. Where should I start?"
This was the question I asked a prominent three generation farm family recently. The first generation had a longing to leave a legacy of generosity and wondered the same thing; the needs are so vast, where shall we start?
For me and the friends I help it depends on what one believes. Here's what I mean. Since I am concerned about our culture I could choose to back solutions in the marketplace creating opportunities for people to advance. Or I could focus on encouraging good governance by being involved politically. Or dive into education, without which human thriving is next to impossible.
I choose instead the fourth sector to invest and spend myself, the Church. See, I believe churches well-led will draw young people like my adult kids, Karen and Micah. And when good people are drawn to a community of faith, the Karen and Micah's of the culture will use their faith to navigate life and make decisions that improve relationships around them. The trickle effect of this is well established over millennia. The absence of it is evident in our culture today.
Remember roller derby's slingshot move where a skater's arm is grabbed by a teammate's and is swung forward using momentum to accelerate through the pack of skaters? This is what a well-led church does for people who engage in it. They accelerate in their ability to thrive no matter what, and are able to navigate life's ups and down with confidence that they are not alone.
Neighborhoods, communities and our nation, with well led churches, will thrive. We will be equipped to thrive because we know we are loved.
What does this have to do with generosity? When we engage in a well led church we discover a generous God who wants what is best for us and never stops giving despite our wanderings.
So for me, I'll keep spending myself with social entrepreneurs who believe what I believe. People like Bob Buford who started Leadership Network and Bill Simon who founded Parish Catalyst to help accelerate Catholic Parishes and Tim Flanagan who after a brilliant career founded Catholic Leadership Institute.
How about you, if it looks like everything needs fixing, where will you begin?
---
Read my book, Connected for Good: A Gameplan for a Generous Life, to discover stories of people just like you who have become generosity champions
3 responses to "Where Will I Start?"