Jun 5, 2018 at 11:34 AM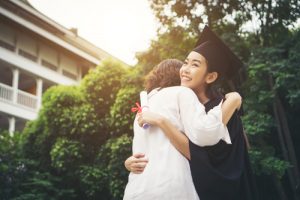 May and June are graduation months. Time to celebrate great accomplishments and the moving on to a new phase in life; new job, new school. When I reflect on the times my children graduated, I remember being so grateful to those people who had poured into their lives. Karen and Micah spent the better parts of their childhood years surrounded by teens and young adults who were outstanding leaders for summer campers and teens. They had a tremendous positive influence on my kids. And there were other youth leaders at church and teachers who not only taught but cared, gave direction, and listened. Other parents of our kids' friends were also there to watch over, guide, and protect them. They had mentors both in and out of school who they respected and valued the opinions of.
Some of this "pouring in" was done very intentionally, but most wasn't. It was just good people who cared about my kids. And when folks say to Jamee and I, "Good job, mom and dad!", I always know that we didn't raise them alone. It truly does take a village. Even during the bumps in the road, there were folks who didn't shy away but stayed close to give direction and support. And the generosity of time that people gave, safe spaces to hang out, job opportunities and training, the list goes on and on, is not lost on me.
Being generous with what we have because of what we've been given is generosity in its purest form. In Tim McGraw's popular song, "Humble and Kind" he reminds us:
"Don't take for granted the love this life gives you
When you get where you're goin'
Don't forget turn back around
Help the next one in line
Always stay humble and kind."
So, what does this have to do with generosity? Well, first I'm grateful, which forms the foundation of a generous life. But more to the point, these people spent themselves on my kids; the first and most undervalued of the generosity currencies, connecting for the benefit of others.
How are you passing on the love you have been given? I'd love to hear about it.
---
Read my book, Connected for Good: A Gameplan for a Generous Life, to discover stories of people just like you who have become generosity champions of all sorts.
One response to "Help the Next One in Line"