Jan 9, 2018 at 8:47 AM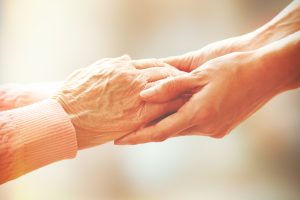 Why is it that we want to help the most when the least will do and feel like the most?
Our elderly neighbor, Mary Lou, died recently. A childless widow, she died a pretty lonely woman. She was a woman of faith, a teacher for forty-two years, and had been retired for sixteen years, so her network had gone quite cold. She depended on Jamee, my wife, as a friend and neighbor, and as she diminished, Jamee's connections increased and deepened. Jamee became her health advocate and confidant, and towards the end of Mary Lou's life Jamee became her health care power of attorney. After her passing Jamee knew Mary Lou's wishes about her funeral, so she became a point person with the parish and funeral home. Jamee often said, "John, she has no one." Easter, Christmas and Thanksgiving dinner always included Mary Lou and John, her husband, before he died seven years ago.
About twenty-five people came to the funeral. A few cousins, a few church friends, and four former teaching colleagues who saw the obituary. It was a lonely funeral and burial.
Jamee received twenty-five glowing, gushing affirmations about her role in Mary Lou's life. Jamee's response to each praise was, "It was the least I could do." You see, Jamee was feeling remorse at not doing more to help Mary Lou's final days. She wanted to be able to say, "I helped the most I possibly could."
It seems to me that this desire to help the most paralyzes us. It might have also paralyzed others who knew Mary Lou better and longer than Jamee did. I met all twenty-five folks at the funeral. They seemed like good people to me. But the fact was, not many of them were available to Mary Lou while she lived.
I wonder if maybe knowing that Mary Lou was a lonely widow needing so much companionship, advocacy with doctors, and help around her house caused them to predict that a connection would require more capacity than they had…so they did little or nothing to connect.
Jamee's gift is unearthing treasure in the little things of life. I love her for this lesson.
It turns out that being present is helping the least, and it's what helps the most.
7 responses to "It's The Least I Could Do"