Nov 30, 2017 at 10:56 AM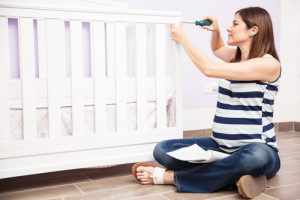 My friend Jessica is a working woman who does not make much money but is helping contribute to her family's finances, and sometimes has a small amount of money that she is able to set aside and save up for things. She uses this money for extra things, special things that there isn't room for in the family budget.
Her friend Pat's son and daughter-in-law were expecting their third child, and the generous and giving daughter-in-law had given their crib to a young woman at their church who was pregnant and could not afford a crib of her own. Upon hearing this, Jessica actively started looking for a crib she could afford to buy for her friend's family. A brand new crib, still in the box, became available through a rummage sale and Jessica used the money she had set aside to purchase the crib. When she and her husband went to the rummage sale to pick up the crib, the lady there told them that all of the items for the rummage sale had been donated and the proceeds were being given to a crisis pregnancy center. Wow, what a generosity multiplier!
When Jessica called Pat to tell her she had a crib for her daughter-in-law she learned that a crib had been found from a relative.  Jessica was discouraged by the news, but asked her husband to put the crib in their garage to hold on to. Their children are adults and her husband did not understand why they should have a crib, and she didn't either but she sensed the reason would present itself.
And present itself it did… in the form of a waitress. But not right away. Jessica and her husband were out for a fish fry and she kept staring at their waitress. Her husband asked her why, and she explained that she was pretty sure their waitress was pregnant, but didn't ask as her husband assured her that was not in good form. But a seed had been planted in her mind.
The next Friday, when her husband was out at his monthly poker game with friends, Jessica went back to the same place and sat in the bar, which is where they had been the week prior. She struck up a conversation with her waitress but didn't see the young woman who had waited on her the last week.  Jessica told her server that she had a crazy question and asked if the girl who had waited on them last week was pregnant, quickly explaining that she had a brand new crib to give her if she needed it. After giving the waitress her name and phone number, Jessica soon heard from the pregnant girl who was, indeed, in need of a crib.  They made arrangements, and Jessica and her husband delivered both the crib and a new mattress to the young woman the next weekend.
As they were returning home, her husband shared with her how good he felt being a part of doing something good for a stranger in need, and how thankful he was for having been a part of the experience.
This is no script of my friend's design, the events did not at all work out as she expected or intended. In the end, her generously giving turned out so much bigger and better than she envisioned and the blessings overflowed.
Be ready, open to opportunities and willing to respond, and step out in faith! God loves a cheerful giver!
2 responses to "Be a Cheerful Giver, AND Step Out in Faith!"