May 3, 2017 at 8:54 AM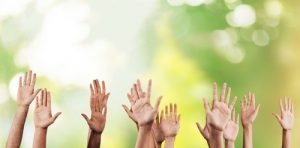 Last week I spent a couple of days in Indianapolis at the request of a new friend, Layne at Ron Blue and Company. Weeks ago, after having lunch with his colleagues and talking about generosity and ways in which the Generosity Gameplan could serve clients, Layne pulled me aside and wondered how what we had just been talking about could help his church. He is a member of the large evangelical Grace Church. They had just completed a two-year capital campaign and wondered, "How do we rethink generosity as a congregation?" Interesting.
Their lead pastor had preached on generosity for three weeks, and on the fourth weekend we showed this animation and gave away over 1,000 copies of my book Connected for Good. We then invited 100 people to follow their stewardship committee in creating their own Generosity Gameplans. The outcomes are still emerging, but it is clear that the stewardship pastor, Shane, and his team have fresh insights into these 100 folks, how they see generosity for themselves and how they wish to engage.
A great story emerged in a group discussion at one of their campuses. Folks were invited for a book discussion with the stewardship team and myself. During that discussion, a somewhat new member of the congregation sheepishly admitted that after spending herself at her health and fitness business helping women grow in spirit, mind and body all day every day, she has no capacity to "volunteer with her strengths at church."
Shane lovingly opened his eyes wide, offered grace and filled her with this thought. "You are an example of a person living generosity with her whole life, not just on Sunday, or when you volunteer or make a contribution. You have fully integrated faith, life and work into a beautiful Generosity Gameplan. How can Grace Church serve you?"
On the drive back home I wondered, what else wants to happen with my book, Connected for Good, and more to the point, what else wants to happen with the Generosity Gameplan? Most people I talk to lament about engagement; businesses engaging customers, advisors engaging clients, pastors engaging their congregations. Since engaging people to sign up, show up, participate and finish is such a challenge, can getting clear and confident about how we want to be generous with our whole lives serve to help bring a little peace of mind like Shane did for this woman?
Where are you trying to get engagement?
---
Read my book, Connected for Good: A Gameplan for a Generous Life, to discover stories of others who have become generosity champions.
One response to "The Challenge of Engagement"