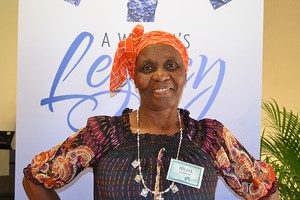 When you spend your currencies, whether it be relationships, strengths or resources, and you realize that your efforts are being amplified and multiplied we call that the Multiplier Effect.
A perfect example are my friends Barb and Gary Rosberg of America's Family Coaches. They have a wonderful ministry in the nation of South Africa. Each year they spend about a month serving the Zulu women who care for and feed children orphaned by HIV/AIDS and are living on the streets.
This trip is made possible by an anonymous gift that covers the cost of their airfare to and from South Africa. Among the many details that go into the yearly planning of this trip, Barb and Gary know that their travel costs are covered.
Once they arrive, they are able to be fully present. Gary supports Barb as she teaches Godly relationship principles to these Zulu women through The Six Secrets to Godly Relationships, which they wrote together. Barb designed a beautiful necklace that tells the story of the six secrets, that she gives to the women to help empower and encourage them. They, in turn, care for and feed the physical and spiritual needs of children who have lost much at a young age. In the years to come the hope, care and education given by these "thandle" (Zulu for "beloved") women will ripple through this generation and onto the next. What may seem a simple gift by this donor has effects that will ripple for generations to come.
Like Jesus when he fed the 5,000 with only a few loaves and fishes, these donors realize that their generous efforts are being amplified and multiplied when they spend their resources. You give something away and you receive as much or more back in return. You give but your supply isn't diminished. Your gift benefits both you and others in a win-win scenario.
How have you seen your gifts multiply and ripple throughout the communities you give to/volunteer with? Please share with our community by leaving me a comment.
---
Read my book, Connected for Good: A Gameplan for a Generous Life, to discover stories of others who have become generosity champions.