Oct 12, 2016 at 4:15 PM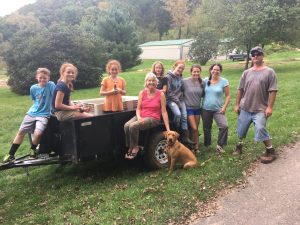 Sisters Cecilia and Marguerite have 17 children between them and are neighbors of ours here at our farm. They have beautiful, faithful, stable families and are still grounded by their 94 year old father, Barney. At mass on Sunday mornings, they command the first four rows on the right side of our little Saint Phillips Church.
About a week ago, amidst days and days of record rains, we squeezed in a day for our grape harvest, and Cecilia brought over eight kids to help. In addition, Joe, always our reliable helper, has his new prosthesis and is now able to navigate the vineyard without crutches. That was quite a celebration in itself.
While the harvest was quite good, the real story is the unanticipated challenge of flash floods. As of today, we are 18 inches above our ten year average rainfall with most of it coming in the last sixty days. Rocks are coming down from the hills and are strewn across the valley floor. Our road washed out and culverts are overcome with water. It's a mess. Anyone who grows anything in the area is met with muddy fields, washed out roads, and moldy crops. "That's farming," you say? Not so fast. The discouragement is real after investing so much of ourselves.
That got me thinking: What happens when we are discouraged by acts of generosity that are unappreciated, ineffective, or downright counter-productive? Consider the charity leader who never sends a thank you note or the pastor who never acknowledges hours of volunteering or the unappreciated connection we made that led to a new job for a friend.
Like the farmer in southwest Wisconsin or the farmer in the parable of the sower, they kept on sowing with the confidence that their clear heart's desire for abundance will overcome discouragement and disappointment.
Put on your boots and keep giving because the harvest is plenty.
Have you met disappointment with acts of generosity? How has this affected the next opportunity?
---
Read my book, Connected for Good: A Gameplan for a Generous Life, to discover stories of others who have overcome discouragement and become generosity champions.
One response to "The Harvest is Plenty, But Put On Your Boots!"