Jun 6, 2016 at 12:10 PM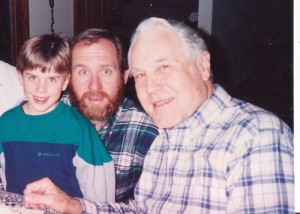 When we started our lives together, Ed Toogood had been a bachelor for 45 years and I was a 12-year-old kid. He had no experience being a dad and I had no experience being a son to a man. But that didn't stop us from trying. At that age, I loved to fish by myself, walking the creeks. So, Ed invited me to go on our first trip – fishing in the Gulf of Mexico. We drove down to the coast of Texas and stayed in a very seedy hotel. Out on the boat, we had a fun day catching a few red snapper, and then we bought a few more from the market to take home to Mom.
Another time, we tried going camping, but Ed had no camping gear except for old US Navy sleeping bags designed for the Arctic – and we were in Texas! We went out to Possum Kingdom Lake, by YMCA Camp Grady Spruce, and what an experience it was. We never went far from his Buick, sleeping at a rocky campsite with no tent and cooking hobo dinners in aluminum foil over the fire. Neither of us had memories of father-son bonding, but Ed was showing me that he wanted to spend time with me, even if he was still learning to be a dad.
I still have the letter he left on my dorm-room desk when I started college, six years into our relationship. He covered four pages with his handwriting, telling me I was starting a new life on my own, encouraging me to "stand on your own hind-legs, express your opinion and do what you know is right!" He explained that when he nagged me and expected a lot from me, he was only trying to help me become a better man. Of course, he couldn't resist telling me that I would need a lot of self-discipline for heavy studying! But to have him write, "I couldn't ask for a better son than you, and I wouldn't trade you for anyone" was quite a gift for me.
Long after college, when I was succeeding as an adult in my YMCA career, there came a day when Dad said he was proud of me. If you asked what moment I became his son, this is the one I would point to. So much of what I've learned about generous relationships started with watching Dad give me his presence by paying attention to me, showing up, and telling me how he felt about me.
As we celebrate Dads this month, do you have a story of how your dad taught you generosity?
---
Read my book, Connected for Good: A Gameplan for a Generous Life, to discover more stories about how being present is an act of generosity.
2 responses to "Father's Day Tribute"