Mar 8, 2016 at 1:15 PM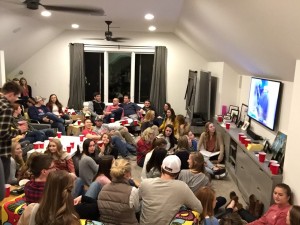 Students at Western KY University have many choices as they look at our culture for role models. And most of them frighten parents to death. It seems that in our young adult "discovery season" we all look around to find someone about which we can say, "I want to be like her or him."
Enter Shawn and Natalie, whose Generosity Gameplan is clear and concise. "Our heart's desire is for college students." It's true. They are completely sold out, all in, committed.
Two or three nights a week, their "bonus room," a large attic room in their home, is filled with students studying, hanging out or participating in Bible studies. Good luck finding street parking on those nights if you're one of the neighbors!
Two sororities have "adopted" Natalie, and Shawn mentors up to a dozen men during the year. Some call him at his busy wealth management practice every other day to check in.
Students from fragmented families, intact families, rich and poor show up each week. Many drop by unannounced, as well. Shawn told me that they clean house once a week, so if students show up on day six, "It is what it is"…real life. Natalie and Shawn have three children under the age of seven.
What a model for marriage and family. Real life, with all it's commotion and love, played out for these young men and women. You can hear students now can't you? "I want to be like that."
This is what a Generosity Gameplan that's focused on one's heart's desire and spending one's self, not just one's money, looks like.
It's simple really Shawn says, "Sometimes God just wants you to show up."
I've noticed, in helping hundreds of folks with their Generosity Gameplans, that people follow availability. Are you available?
---
Read my book, Connected for Good: A Gameplan for a Generous Life, for more inspirational stories about how to align your heart's desire with your generous intentions.
One response to "Following Availability"