Oct 28, 2015 at 11:17 AM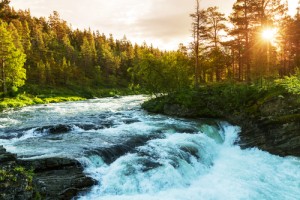 I got to visit with my friend Sharon this week during one of her breaks from a conference for pastors. Making connections is in Sharon's DNA, and she was eager to introduce me to Dr. Gary Hoag, the Generosity Monk. Gary was also presenting at this meeting. The three of us share a passion for generosity, and Sharon expected us to chat about that. But when Gary walked up to the table he noticed my fly fishing themed cap. As Sharon rolled her eyes, Gary and I talked fishing.
We did eventually get around to talking about generosity, exchanged books, and pledged to reconnect for a deeper conversation. But on the way home it occurred to me that Gary has a good point when using water as a metaphor for generosity. A reservoir is highly controlled and counts on rain and runoff, while a river flowing freely is constantly recharged with life giving springs. Gary challenges us to consider this question. Do our acts of generosity flow freely, reflecting the many blessings we have received, or are they measured and held for another day?
I wonder, in what ways have you been blessed and how does that effect your generosity?
Let me know by leaving a comment below.
---
Read my book, Connected for Good: A Gameplan for a Generous Life, for thoughtful reflections on generosity that may help you identify whether your generous acts flow freely like a river or if they're measured and stored like a reservoir.
6 responses to "Reservoirs and Rivers"