Sep 9, 2015 at 9:57 AM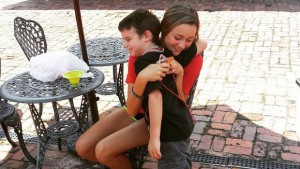 When I watched this story on the CBS evening news, I smiled. Generosity in its simplest form…giving away smiles. This little guy has lost a lot in his short life, and yes, he probably lost his smile there for a while. But something touched him in his experience, and he now has a goal.
Here is a link to the story: http://www.cbsnews.com/news/after-losing-parents-6-year-old-embarks-on-mission/
"The enormous power, the power to lift spirits" is how the commentator describes Jaden's gift. And the goal? "It's to make you smile," he tells one unsuspecting person. Jaden targets people not already smiling while he is out on his mission. He sees a need in someone. He fills it. Simple. Generous. And expecting nothing in return.
It made me think about my acts of generosity. When I spend myself on others, and not just my money, I am first and foremost giving away my presence. Being present to others is the most abundant, yet least spent, generosity currency. Something Jaden understands.
How about you? With whom will you spend yourself today?
---
Read my book, Connected for Good: A Gameplan for a Generous Life to find more stories about the rewards of being present to others.
3 responses to "The Power to Lift Spirits"