Apr 9, 2015 at 8:15 AM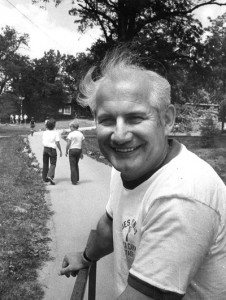 "I'm the luckiest, the richest and the happiest man alive."
That's the way a friend of ours started every day – Oh c'mon you say…every day? Yep, every day. Ray Pugh, teacher, coach and YMCA Camp Director faced challenges every day, just like the rest of us; recruiting passionate board members, raising necessary funding, inspiring volunteers, etc. But he pumped himself up. Ray figured that others were counting on him, especially kids, and if he had a bad attitude, they would as well.
Ray couldn't hold a note, but no matter, he played the guitar and banjo and belted out songs with his college-age counselors anyway often saying that camp directors didn't have to sing pretty, just confidently! He was right. Ray's confidence and joy were what made being a part of his life a great experience for so many.
So, what does attitude have to do with generosity? Ray knew his strengths; confidence, a great smile, optimism, and a memory for names. Knowing his strengths made it easy for him to give confidently of his gifts.
So I wonder, is your attitude a part of your Generosity Gameplan to inspire others? How do you stay Connected for Good?
---
Making your own Generosity Gameplan can illuminate the way toward living with an attitude of generosity. Read my book, Connected for Good: A Gameplan for a Generous Life to discover how.
5 responses to "An Attitude of Generosity"