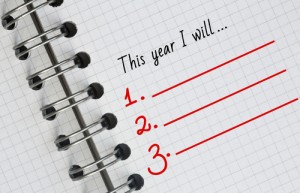 New Year's resolutions – as 2015 rolled around, I wondered, "how many of us make them? How many of us succeed at them?" Statisticbrain.com (yes, that's a real thing) does research on questions like these. According to their website, 45% of us make a New Year's Resolution. The top three? 1) Lose weight 2) Get organized 3) Spend less, save more. None of the three of those were surprising to me. How many of us succeed in achieving our resolutions? Only eight percent. I suspect it is such a small percentage because New Year's resolutions have to do with "doing" not "being".
Yesterday I had lunch with two friends and when I asked, "What's most important to you in 2015?" The response was nothing like New Year's resolutions. Instead they spoke about a heart longing for health and harmony in their families and an ability to appreciate the abundance that surrounds them. Now that's what I call looking forward and focusing on being rather than doing.
So, how about you? How do you see 2015? Is your heart longing to do more or be more? My hunch is that if you are clear and confident about your Generosity Gameplan you'll find yourself focusing less on the "doing" charitable things and more on "being" Connected for Good. The result? A banner year for successful New Year's resolutions.
I'm curious, what's important to you in 2015?
---
Wondering how to go from doing to being with your generosity? Find more great ideas in my book, Connected for Good.